Minnesota Jazz Education works with various agencies and artists to provide, support and promote a wide variety of jazz workshops and related jazz education experiences. Partners include the High School for Recording Arts, Schubert Club, MacPhail Center for Music, Walker West Music Academy and more.
Stay tuned for future workshop announcements.
8th Annual Jazz Piano Workshop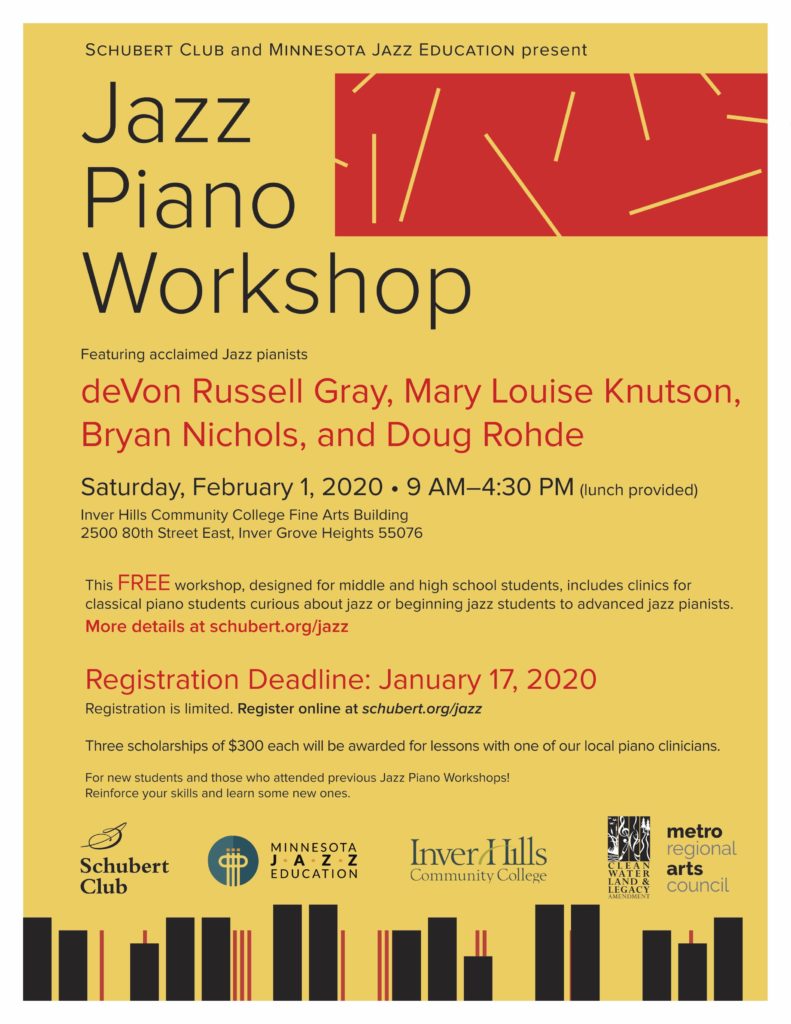 This FREE workshop is a one-of-a-kind opportunity for students to explore jazz piano, meet peers with similar interests, and learn from renowned jazz pianists from the Twin Cities! Designed for middle and high school students that can read music and have a minimum of 3 years of piano experience, students will work on playing jazz piano in small groups with clinicians. Students with no jazz experience whatsoever to students with advanced jazz experience are encouraged to attend, and will be placed in groups based on ability.

Three scholarships of $300 each will be awarded for lessons with one of our local piano clinicians. Scholarships are provided by endowments to Schubert Club from the families of Marie Froehlich, Jane Matteson and David Paulus. Scholarship winners will be announced online after the workshop this year.

Prerequisite for participation: A minimum of 3 years or more of piano instruction and must be able to read music.


Registration Questions: Please consider all questions thoughtfully before answering them honestly in order to have the best experience possible. We will be grouping our students differently than previous years in order to optimize student learning, and our registration questions have changed based on extensive discussion with our jazz clinician experts!

For questions please contact Kate Cooper at Schubert Club, 651.292.3266 or kcooper@schubert.org.

Presented by Schubert Club and Minnesota Jazz Education.

Click here to register. Learn more about the clinicians!
2019 Improvisation Workshop
Saturday, November 9 10-2pm at Central High School. Lunch Provided. FREE
Minnesota Jazz Education (MJE) invites local high school-aged jazz combos to participate in an improv workshop. A variety of activities are planned, including improv clinic, combo intensives and a master class for each instrument. Clinicians include Lauren Husting, (trombone), Stephanie Wieseler (saxophone), Omar Abdulkarim, (trumpet), Tasha Baron (piano), Liz Draper (bass), Beth Varela (drums).
This workshops is for combos that meet the requirements (below); not for individual players. Space is limited to four combos. Combos and will be accepted via email confirmation on a first come, first served basis.
Combo Eligibility:
All combo members must be in high school, and can attend the different schools

All combos

must have full instrumentation at workshop (minimum 3 pieces, preferably 4 or more, though not a big-band)

Combo can be new to playing with each other–OR–

be already formed

Musicians may only play with one participating combo


Combos should bring one or two tunes they'd like to work on
To secure a spot for your combo, please contact MJE Program Coordinator, Katia Cardenas at info@mnjazzed.org, with the names and instruments of all players in your combo. This program is made possible by a STAR Grant from the City of St. Paul.